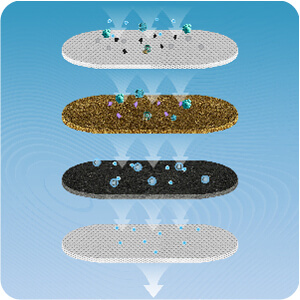 Premium materials
Delicately selected Kinetic Degradation Fluxion(KDF) and Advanced Granular Activated Carbon(GAC) naturally filters out impurities larger than 20 microns, such as chlorine, odor, spore, rust, dirt, large particles, inorganic pollutants and asbestos. The water filter for RV inhibits harmful substances from breeding at the same time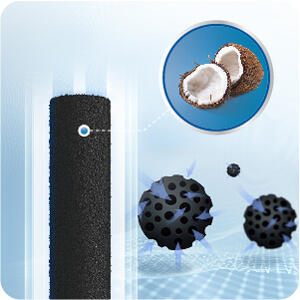 Excellent taste
Advanced granular activated carbon(GAC) made up of natural coconut shell reduces bad taste and odor, thus improving taste in a natural way No chemicals are added Enjoy a brand new water filtration experience with the water filter for RV on vacation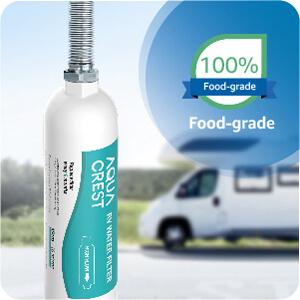 Safe materials
The housing and 304 stainless steel made hoses all adopt food-grade materials, thus avoiding second pollution The durable and firm filter that will not leak or break accompanies you for the whole camping season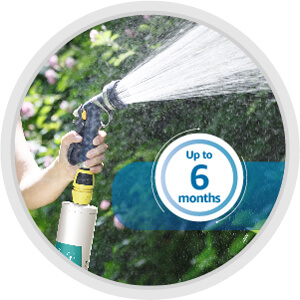 Long service life
The water filter for RV can last for 6 months, allowing you to enjoy fresh water throughout your outdoor activities Long lifespan reduces replacement frequency so that you can enjoy more leisure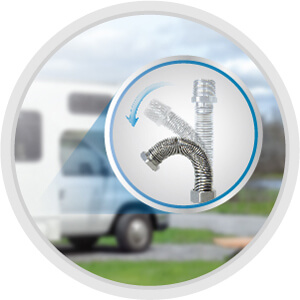 Durable and firm
Stainless steel hose protector eliminates risk of break, which is much more durable Compared to other plastic hose protectors, the stainless steel hose protector lasts longer and saves more money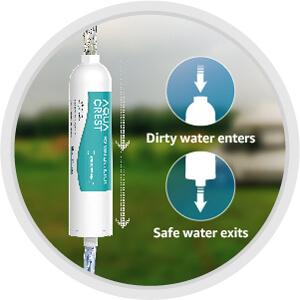 Stable pressure
The RV water filter system provides and keeps stable water flow Say goodbye to intermittent water flow forever Enjoy your vacation with smooth drinking water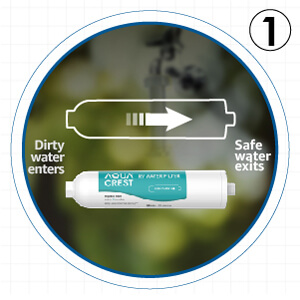 Step 1
Attach the incoming water hose to filter with the arrow in line with the direction of water flow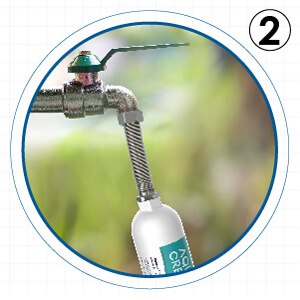 Step 2
Turn on water and flush for a few minutes before its first connection with RV Then, turn on the water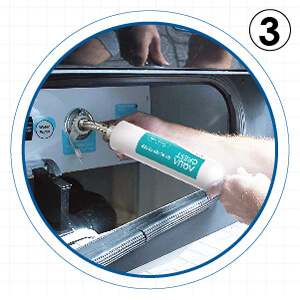 Step 3
Attach the filter to RV as shown in the picture. The filter can also be fixed at the front side of hose at faucet
More Information
Product Information

Package Dimensions

13.86 x 4.57 x 3.31 inches
Questions and Anwsers
How often should the freshwater filter change in an RV?
AquaCrest RV Inline water filter has long durability that could last 6 months. It provides clean and crisp drinking water with every sip at its best, giving you an amazing way to enjoy outdoor activities.
What contaminants can the RV inline water filter reduce?
The RV water filter system selects tested Kinetic Degradation Fluxion(KDF) and Advanced Granular Activated Carbon(GAC) with 20-micron filtration holes, which effectively reduces sediments, chlorine, spore, rust, dirt, large particles, inorganic pollutants and asbestos.
Can I use the inline water filter for hot water?
The answer is no. The hot water cannot be filtered by the filter effectively because it may reverse the process of absorbing contaminants, causing the release of pollutants back into the water. So we only suggest you use the RV filter for cold water.
Why are there black specks in the water or why does my water taste funny?
Water filters are made from the purest carbon blocks. When the filters ships, it bounces around and knocks carbon granules loose from the block. These little carbon granules are called fines. All of the quality filters in the market place require preliminary flushing to remove the carbon fines. Some systems may need to be flushed more than once. This is especially true if you have the scale or lime water.
Cam the RV inline water filter work with the pressure washer?
It can be used with pressure washers from San Jose Simpson, Greenworks, and other brands, prolong the service life of the equipment.