A refrigerator water filter reduces water impurities, including lead and chlorine, to give great-tasting and great-smelling water. In addition, a refrigerator water filter protects your refrigerator and prevents water pressure decrease from the dispenser. Furthermore, drinking filtered water from your refrigerator saves you money compared to drinking bottled water, which also contributes to plastic pollution.
Waterdrop WD-F46 is a replacement for LG® water filter LT1000P®. The WD-F46 water filter is made from the 100% Sri Lankan superior coconut shell carbon block. This model passed NSF 372 certification for being lead-free, and NSF 42 certification for reducing impurities such as chlorine and taste/odor.
Waterdrop WD-F46 Specifications
| | |
| --- | --- |
| Model | WD-F46 |
| Temperature | 38-100℉ / 0.6-38℃ |
| Filter capacity | 200 gallons (757 liters) / 6 months |
| Flow rate | 0.5 gpm (1.9 lpm) |
| Pressure | 20-100 psi (140-689 kPa) |
| Reduces | Chlorine, bad taste and odor, cysts, rust, corrosion, sediment, and turbidity |
Why Should You Choose Waterdrop WD-F46 Replacement Water Filter For LG® LT1000P®?
WD-F46 serves as the best alternative to the LG® water filter LT1000P® in terms of quality and cost.
Quality Assurance
Waterdrop WD-F46 is NSF 372 certified for being lead-free and NSF 42 certified for reducing chlorine and eliminating bad taste, which means that the filter produces purified water of high standard, making it the best filter for your refrigerator.
Filtration Performance
Waterdrop WD-F46 water filter has the same effective filtration performance as the original LG® LT1000P® water filter, providing you with safe and healthy drinking water. The 0.5-micron coconut-shell activated carbon block filter effectively reduces unwanted impurities such as chlorine, odor, and unpleasant taste, cysts, rust, corrosion, sediments, and turbidity.
Premium Filter Material
Compared to charcoal, which contains coal, wood, walnut shell, and apricot shell, Waterdrop uses 100% selected coconut shell carbon block from Sri Lanka. It contains a 2-times-larger surface area and more micropores than an inferior carbon block. Furthermore, the filter housing is BPA-free, food grade, and lead-free, earning its NSF 372 certification. At Waterdrop, we value each customer's feelings. Therefore we provide buyers with eco-friendly products, which are also a perfect combination of excellent filtration performance and innovative design.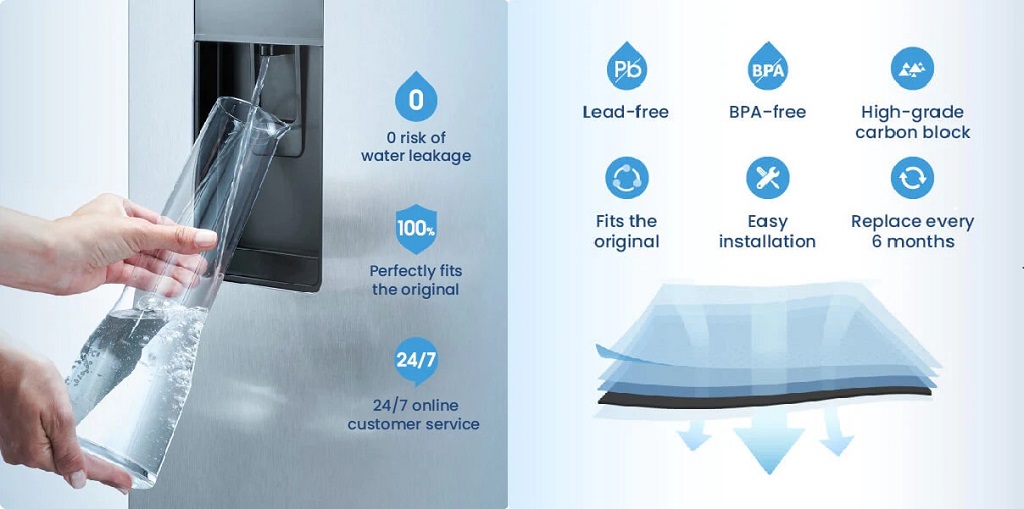 Fresh-Tasting Water
The filter's 100% natural coconut shell carbon block adsorbs more impurities than low-priced, mixed carbon block. Generally, the Waterdrop refrigerator filter improves drinking water taste, providing a unique drinking experience.
Filter Lifespan
The lifespan of the Waterdrop WD-F46 replacement water filter is 6 months, the same as the lifespan of LT1000P®.
Competitive Price
There are no resellers pocketing money when it comes to Waterdrop WD-F46 filters. The filters are sold directly from the factory. Therefore, the Waterdrop WD-F46 is cheaper than OEM filters because the cost does not include brand tax.
The 6-pack Waterdrop WD-F46 costs $51.99, with $8.67 each. Therefore, you get to spend no more than $0.05 for fresh tasting water daily. On the other hand, the 1-pack LG® LT1000P® water filter costs $54.99, almost equivalent to 7 WD-F46 filters.
Compatibility And Easy Handling
The water filter is 100% compatible. It works like the original filter without any leaks. The precision design makes Waterdrop WD-F46 water filter a perfect alternative to the LT1000P® and quite easy to install requiring no tools.
Responsibility For Each Product
Each product, or even a small component manufactured by Waterdrop, must pass an extremely high-standard examination to reach the top requirements on the market. Fortunately, these high standards don't end once the products leave the factory. Waterdrop takes responsibility for each filter. Our 24/7 customer service team will provide a water purification solution at any time.
Applicable Refrigerator Models
LG®
LT1000P®, LT1000PC, LT1000PCS, LT-1000PC, ADQ74793501, MDJ64844601
Kenmore
46-9980, 9980, ADQ74793502
Other Brands
Pureza PF16, GLACIER FRESH GF-1000P, Crystala CF16, Waterdrop WD-F46, AQUACREST AQF-FF46, Waterspecialist WS646A, Maxblue MB-F46, BELVITA BL003-S, Tier1 RWF1053, Mist CWMF002, Zuma ZWFL7-RF300, Colpure CLT-2, OH OH-1000p, Aqua Blue AB-9834
Most Frequently Asked Questions
1. How often should I replace the LG® water filter LT1000P®?
Changing the Waterdrop WD-F46 water filter every 200 gallons or 6 months is best, depending on whichever comes first. Generally, the frequency of changing the filter varies depending on your water conditions.
2. How can I find the refrigerator model number?
Every appliance, including refrigerators, leaves the factory with a model number. You can find the refrigerator model number on the user manual that comes with the appliance. The model number is also on the fridge, usually somewhere on the door. Kindly check
here
for detailed instructions.
3. How to find the part number for my refrigerator filter?
The refrigerator part number is on the label attached to the filter. You need the filter part number to identify the right replacement filter when shopping for one.
a. Detach the water filter from your refrigerator carefully. You do not have to worry about wasting water because the water will shut off with the filter removed.
b. Check the body of the filter for the part number. It is usually printed on it.
4. How to install the Waterdrop WD-F46 refrigerator water filter?
The detailed installation steps are as follows:
a. Remove the old LT1000P® water filter: Press the push button to open the filter cover, grasp the old filter, slowly rotate it 90° counterclockwise, and take it off from the connector and discard.
b. Install the new filter: Align the new filter with the connector and insert the top of it into the filter holder. Slowly rotate it 90° clockwise until it is firmly seated. Push the filter cover until it clicks into place.
c. Flush the new filter before use: Flush the water filter extensively for about 1-2 minutes for the first time use to get rid of the loose black charcoals inside.
5. Can Waterdrop's Replacement for LG® LT1000P® water filters be cleaned and reused?
No, we do not suggest you clean and reuse it. Algae, sediment, minerals, bacteria, and other impurities can build up in the refrigerator's hard-working filter. These substances cannot be completely cleaned out and may lead to health risks if you reuse them. The most convenient and quick way after it is expired is to replace it with a new filter.
To Round Up
Refrigerator water filters allow you to enjoy clean water without generating significant wastewater, which is very different from other home water filtration systems. Furthermore, the refrigerator filter does not require as much expense or maintenance. As long as the refrigerator is working properly, the filter can dispense clean water to your home without waiting. To learn more, you may check the blog "
Is Your Refrigerator Water Filter Good Enough?
".
*LG® is a registered trademark of LG CORP.
*LG® is used for reference purposes only.