The water filtration system market is oversaturated with a selection of products greatly varying in overall quality. When it comes time to choose one for your own home, it can feel a bit intimidating right out of the gate.
When it comes to instant hot water dispensers specifically, it's easy to see how the Waterdrop K6 overpowers the competition. Let's take a look at a side by side comparison with a Waterdrop vs InSinkErator®, and see who comes out on top.
Instant Hot Water Dispensers
What exactly is an instant hot water dispenser? This appliance is capable of delivering hot water instantly in a point of use package.
In fact, the water dispersed by this type of system is near the boiling point, to a tune of 201 °F (give or take). With such a simplistic name, you would think the name is rather self-explanatory. Unfortunately, this is not the case, and there is in fact much confusion surrounding the ownership of such a water dispenser. There are, in fact, three types of instant hot water dispensers, which further confuses homeowners alike.
The Whole-House Instant Hot Water System
Much like its name, the whole-house instant water system is typically found in homes across America. It takes the water circulating within your home's pipes to heat and recirculate. By keeping the water in constant movement, the system is poised to maintain a desired temperature as determined by the owner at the point of installation. By doing so, a whole-house water system may provide water at temp from any tap throughout the home. For those who have a higher demand than what a whole-house system can supply, they can choose to install point-of-use heaters as needed (i.e. in the kitchen).
A Tankless Water Heater System
Commonly known as on-demand water heaters, a tankless water heater system heats water to deliver it throughout the pipes to the point-of-use. This on-demand style varies greatly from an instant hot water dispenser system in that it provides on-demand at-temp water, rather than circulating at-temp water throughout the whole house. This means, while a whole-house system takes a few seconds to minutes to deliver, the tankless system delivers instantly.
The Instant Hot Water Dispenser
This type of hot water dispenser is the perfect choice for on-demand hot water for use in beverages or food. True instant hot water dispensers disperse water at a near-boiling temp, for use with an auxiliary faucet (i.e. near the kitchen sink). This unit utilizes a small storage tank alongside an electric heater. It is commonly installed or stored beneath the kitchen sink.
Comparing the InSinkErator® & Waterdrop K6 Instant Hot Water Dispensers
InSinkErator

Filtration System: Reverse Osmosis
Faucet: Smart Touch Display Faucet
Water Temperture: 104℉-203℉
Capacity: 600 GPD(RO System)

Filtration System: Basic Filtration System
Faucet: Brass Construction With Chrome-Plated Finish
Water Temperture: 160℉ to 200℉
While there are many features to compare, the main advantage Waterdrop has over the InSinkErator® is the availability of instant hot water dispensing alongside reverse osmosis in one neat package. This means homeowners are ensured to receive purified water, at temp, on demand.
Is the Waterdrop K6 Instant Hot Water Dispenser Worth it?
By getting two functionalities in one package, you are poised to enjoy hot water on-demand, in a purified way that is healthy for your family. The Waterdrop K6 water filter system is capable of offering your home purified water, at temp, whenever it's needed. Plus, its size makes it the perfect option for under sink installations, with the option of allowing homeowners to set the temp as desired (anywhere between 104℉ and 203℉). Plus, the high capacity design allows for a 600 GPD, at a 0.4 gal/min flow rate to further reduce your wait time.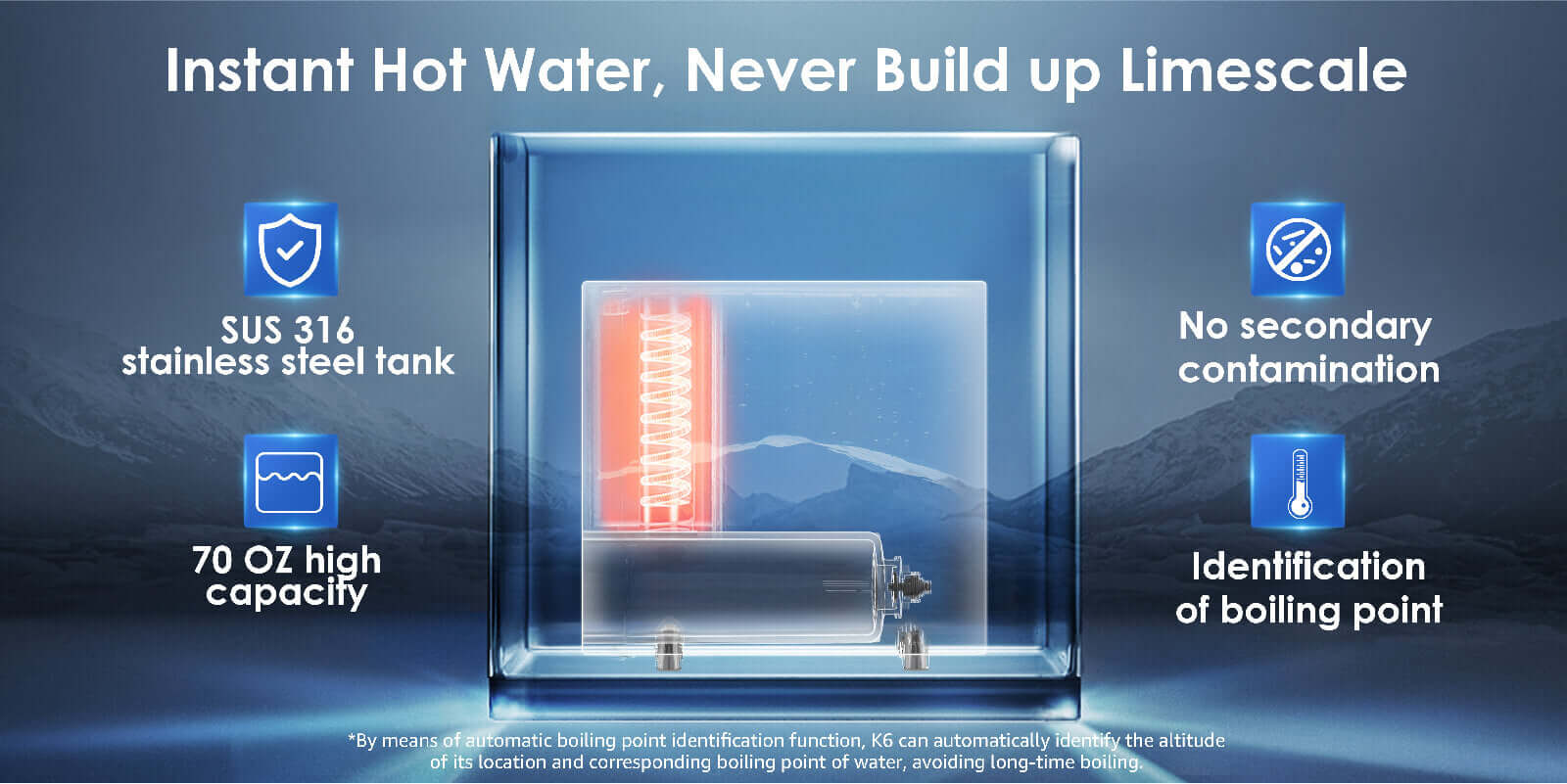 Advanced Multi-Stage Filtration
The Waterdrop RO system relies on water pressure to purify tap water from various contaminants. By pressing the water molecules through the RO membrane it catches harmful solids and impurities. Waterdrop utilizes an RO membrane with a minimum pore size of 0.1nm. Considering most viruses have a diameter around 0.25 micron, Waterdrop's RO membrane is poised to prevent all manner of impurities from reaching your drinking glass.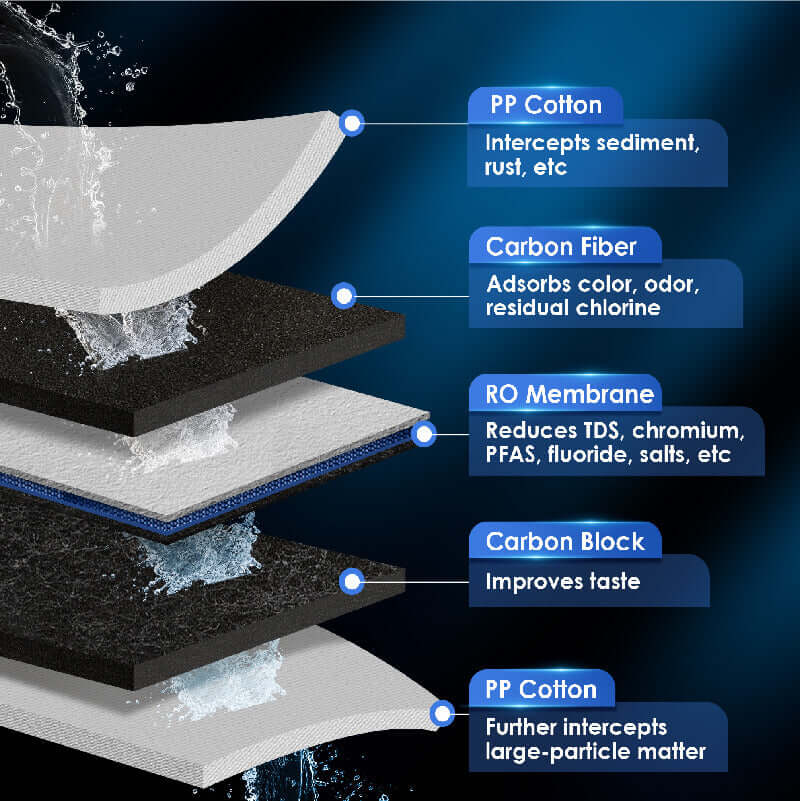 This particular Waterdrop unit features a 5-in-1 filter, including RO membrane, PP cotton, carbon block, and other various filter media. This type of filtration ensures the effective removal of impurities from tap water, such as chromium,
TDS
, nitrate,
PFAS
,
fluoride
, chloride, salts, and heavy metals, to name a few.
Features a User-friendly Smart Display
Waterdrop's digital display faucet informs users of the current filter condition and TDS level in real-time. Homeowners may also utilize the interface to adjust temperature, for ease of use. Plus, it features a child lock function to ensure the safety of little hands.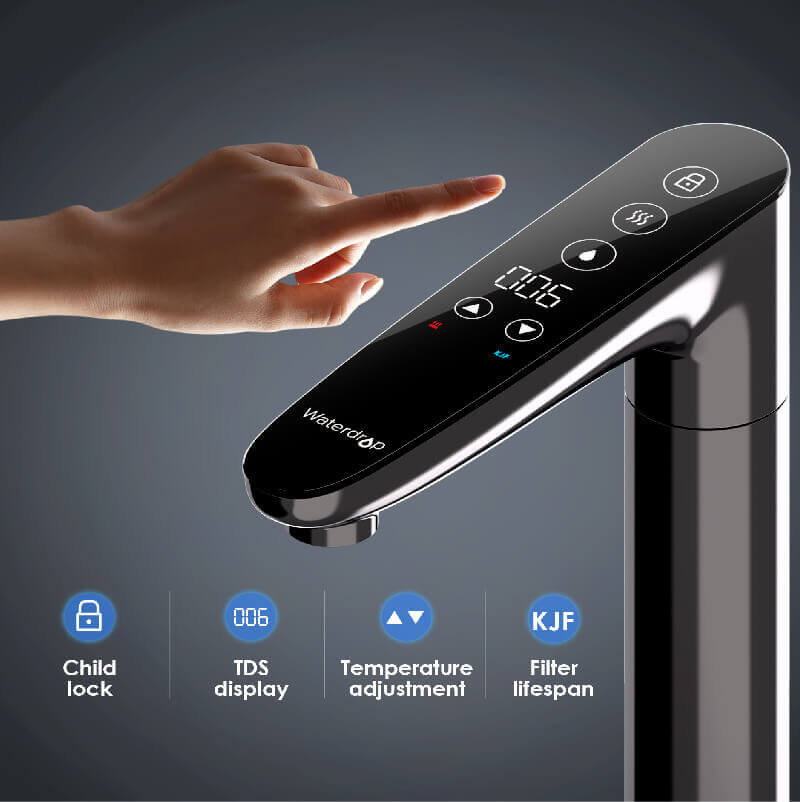 While the temperature is safe for adults, it has the potential to burn a child in mere seconds. Thanks to Waterdrop's design improvements, the featured child lock on the K6 instant hot water dispenser system enables parents to feel more confident installing the unit within their home.
Highest Level of Safety Protection
This smart unit is capable of tracking the purification in an automatic fashion, meaning the Waterdrop K6 RO is steps ahead of contaminants. The built-in water dispensing indicator prevents scalding due to high temps, and improves overall safety. Plus, by opting for a built-in flowmeter, heating overtime protection, and NTC, the unit's element is further protected against damage from extremely high temperatures.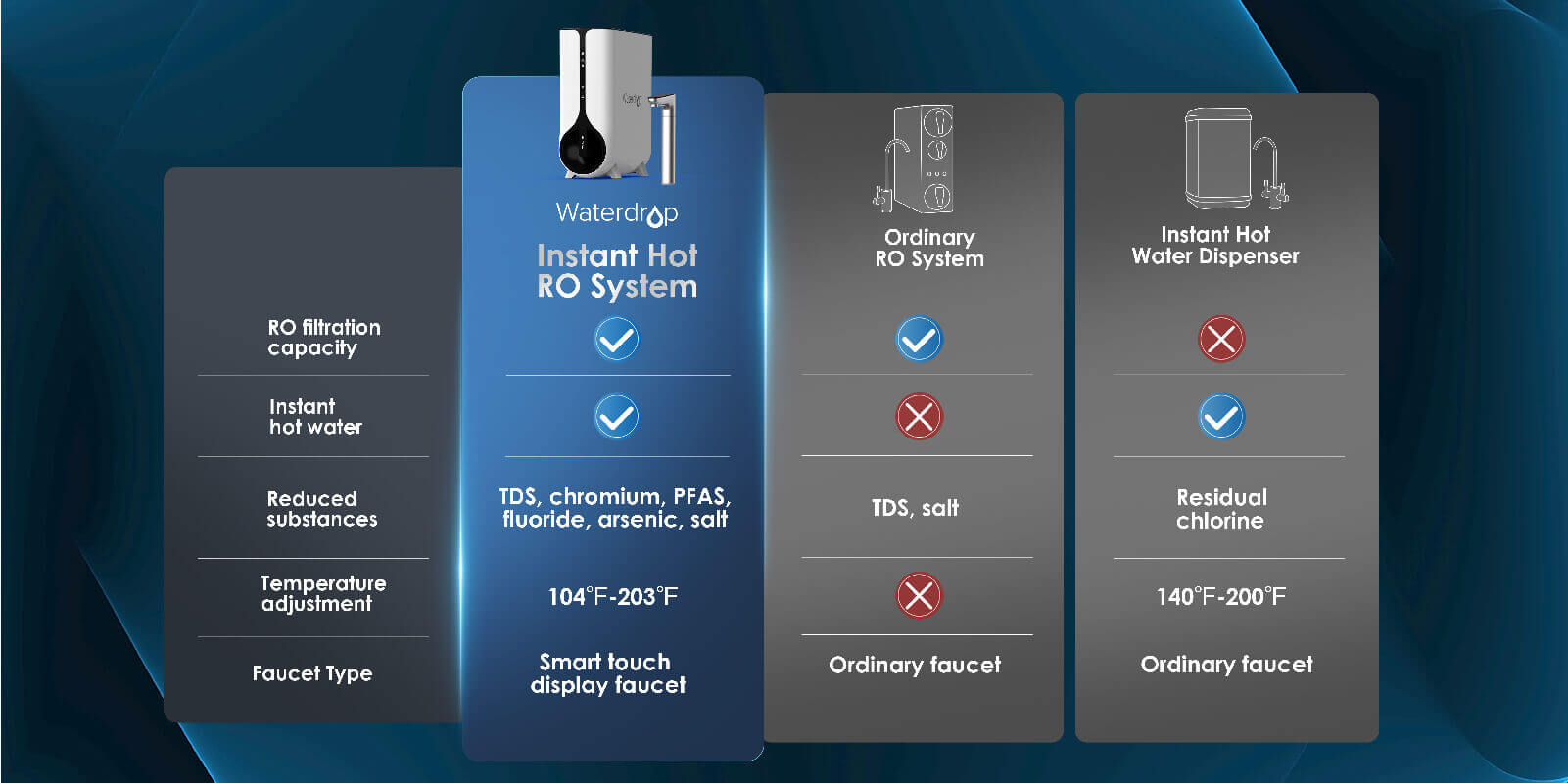 Should You Choose the InSinkErator® Instant Hot Water Dispenser?
The InSinkErator® dispenser is linked straight to the cold water supply at the kitchen sink. This means it is hooked directly to the hot water tank, which may be found underneath your sink as well. Since the tank contains two to three gallons of water at a near-boiling point, the wait time is much longer once the user empties the storage tank. Once empty, the tank fills with cool water for heating. An inner thermostat is responsible for controlling the temperature and heating process within the tank.
Stainless Steel Hot Water Tank
Each unit within the Involve Series® and Invite Series® system utilizes the InSinkErator® instant hot water tank design. This crucial part of the system delivers nearly instant hot water by keeping water at near-boiling temperatures.
Because the tank is directly linked to the hot water faucet, users can make a seamless connection without the need for any tools. The temperature adjustment control is located to the right of the exterior of the tank, allowing users to customize the hot water temperature to their personal preferences with ease.
One Faucet Offering Hot & Cold Water on-Demand
With a hot-only faucet, providing water on-demand at a near-boiling temp, the hot and cold handles may provide homeowners with the option of choosing between hot and cold water from one tap.
Conclusion
While either unit is a decent option for providing on-demand hot water throughout homes, there are options that stand out with each system. The Waterdrop K6 and InSinkErator® Instant Hot Water Dispenser Systems serve as dependable options for homeowners alike, especially those looking for on-demand hot water in a purified form.
Please Note:
InSinkErator is a registered trademark of EMERSON ELECTRIC CO.;
InSinkErator is used for reference purposes only.