WD-G3P800-N2RO Filter for Waterdrop G3P800 Reverse Osmosis System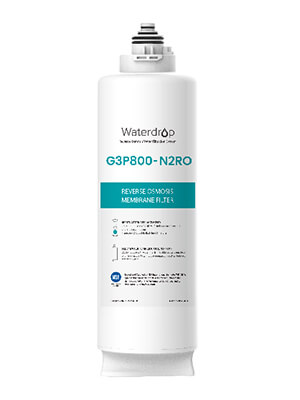 Replace Your Water Filter Regularly For Cleaner Water
Provide up to 2 years of optimal performance or 2900 gallons of clean water. The actual lifespan may vary according to local water quality.
Replacing the filter is snappy and easy. Choose Waterdrop for zero replacement hassles.
Reverse Osmosis Replacement Water Filter for Waterdrop G3 P800 Reverse Osmosis Water Filtration System
Model number:
WD-G3P800-N2RO
Waterdrop G3 P800 Reverse Osmosis Water Filtration System is a powerful and advanced water purifier.
It can filter out all impurities larger than 0.0001 micron, and reduce TDS.
It has a super low drain ratio of 3:1 and saves more energy, thanks to its advanced water-saving technology.
The system produces 800 gallons of water per day. With this ultra-large capacity, you will never have to wait for too long to get clean water.
The smart system makes water quality visible, helping you keep track of your water's safety in real time.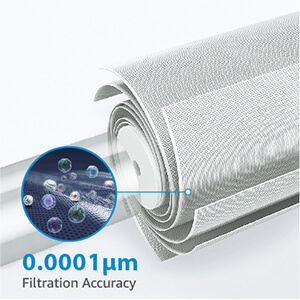 Reduce Impurities And TDS
The reverse osmosis water filtration has a pore size of 0.0001 micron, which effectively reduces chlorine, heavy metals, organics, colloids and other contaminant. It can also reduce TDS.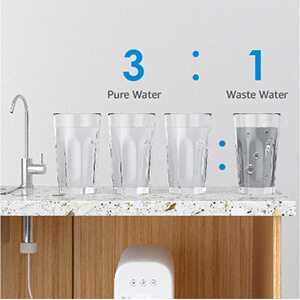 Breakthrough Water-Saving Technology
With a larger membrane surface, this filter produces 3 cups of pure water for every 1 cup of wastewater. It saves more water, unlike traditional RO system.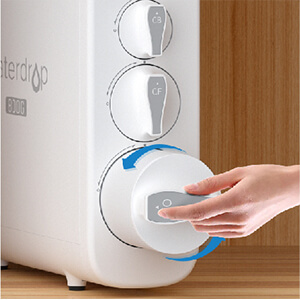 Easy, Snappy Replacement
Despite being a high-performance water purification filter element, it is easy to replace and maintain! Replace the filter in 3 seconds without a plumber or additional tools.
More Information
Product Information

Part Number

WD-G3P800-N2RO

Product Dimensions

4.33 x 4.33 x 14.96 inches